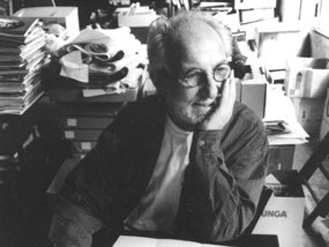 Windows, or: How the Pernigotti Apartment Came About
One day, a couple appeared in my studio, ordinary folks whom I had never met before. "Dear Mr. Fronzoni, you must help us," they announced. "We need new windows, and we have been told if you need windows, go see Fronzoni." "Windows?" I ask, perplexed. "Windows!" they say.
In short, the situation was as follows, their apartment – in a hastily built, poorly planned housing project – had little natural light. The daughter's room, where she did her homework, had no window at all. Of course, it wasn't simply about windows. My suggestion was to pull down all the interior walls in the apartment and replace them by more conveniently arranged glass-block walls, advice to which the couple readily agreed. As a result, the available space was used much more efficiently. Furthermore, the light could now penetrate into all areas of the apartment, and finally, the desired privacy and visual screening between rooms was still maintained.
But the story has a punch line, and a very beautiful one.
"While you are re-thinking and re-designing your living situation," I continued, "you really should deal with the interior as a whole. That horrible furniture. Horrible beds. And those clocks top it off. All junk. Out with it!" Not that I expected any reaction to my words – I only wanted to make my point. But a few days or weeks later they returned and said, "Mr. Fronzoni, the apartment is empty. What shall we put in it now?"
And so the apartment was furnished almost entirely with furniture from the Serie 64. I can hardly imagine a more rewarding confirmation of my creative vision, to bring modernism into even the most humble environment.
(Source: AG Fronzoni – "They thought I was crazy, but they went along with it", a book by Bernd Kuchenbeiser, published in 1997 by Lars Müller Publishers)
Full-stop
For five years of my life I spent each and every morning with Fronzoni. We worked together on Casabella magazine in the same room, at the same table – it was a human and intellectual ordeal.
At our first meeting, when we started in 1965, I called myself Sandro, as did everyone else. Fronzoni immediately said: "No, you aren't called Sandro, your name is Alessandro, A full-stop Mendini, to be precise. There's no room in graphic design for diminutives, soppy messages."
So, rather against my better judgement, from that day on I was A. Mendini. As he said of himself: "I'm just a brand called A. G. Fronzoni."
– Alessandro Mendini, who worked as editor-in-chief at Casabella magazine from 1970 – 1976
How shameful
Fronzoni almost systematically avoided writing. In 1997, graphic designer and design writer Giorgio Camuffo invited Fronzoni to contribute an essay for a book on Italian graphic designers and he submitted forty-two lines of mirror- image text, as in a page of Leonardo's journals. The sentences, however, printed in size 8 Helvetica font, reveal themselves at a closer look to be nothing esoteric, since they're just formed by random characters. The title, however, is clearly readable even in reverse: 'Che vergogna scrivere' (How shameful is writing).
– Giorgio Camuffo (ed.), Grafici Italiani (Venezia: Canal & Stamperia, 1997), p. 39